The College of Agricultural, Consumer and Environmental Sciences is proud to award scholarships totaling over $400,000 annually. Scholarships are available to full-time graduate, undergraduate and prospective students by completing the NMSU Scholar Dollar$ Application.
These scholarships are made possible because our donors have decided to invest in you, the College's future, and the industry. It is this generosity that strengthens the student foundation and allows our College to provide an excellent education.
By completing the NMSU Scholar Dollar$ Application, you are applying for all College and University internally-offered scholarships.
Tips
Write At Least a paragraph for every short answer question.

Include information on your interests, hobbies, background, etc.

Fill out the FAFSA, we use it to determine if you are a need based student.

Get involved in on-campus activities.

Get to know your professors and advisors.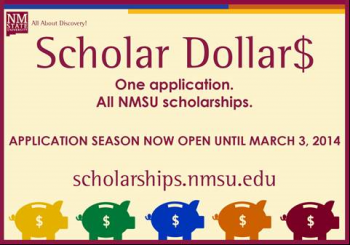 Scholar Dollar$
---
Links
For all questions regarding the FAFSA, loans, grants, work-study, and outside scholarships, please contact the NMSU Office of Financial Aid and Scholarship Services.